.
Typophiles, prepare to get giddy! We'll release a new book soon. "Euclid – Typeface Mystery No.1" will be published in end of March 2021. Pre-order is now open and coincides with the launch of Euclid Mono Vanguard. This font redefines what a geometric mono can be. Early birds will be rewarded: For a limited period, each book's pre-order comes with a free license for Euclid Mono. This new font will be made available to you immediately, while waiting for the book release.
The upcoming book is our second typeface monograph. It's entirely devoted to Euclid, the ultimate geometric sans typeface. We invited Hubertus Design to work on the concept and art direction. And the Zurich-based studio lived up to their name as a leading voice in book design. On 264 pages, the publication showcases the many facets of Euclid's design and inspires readers to find even more.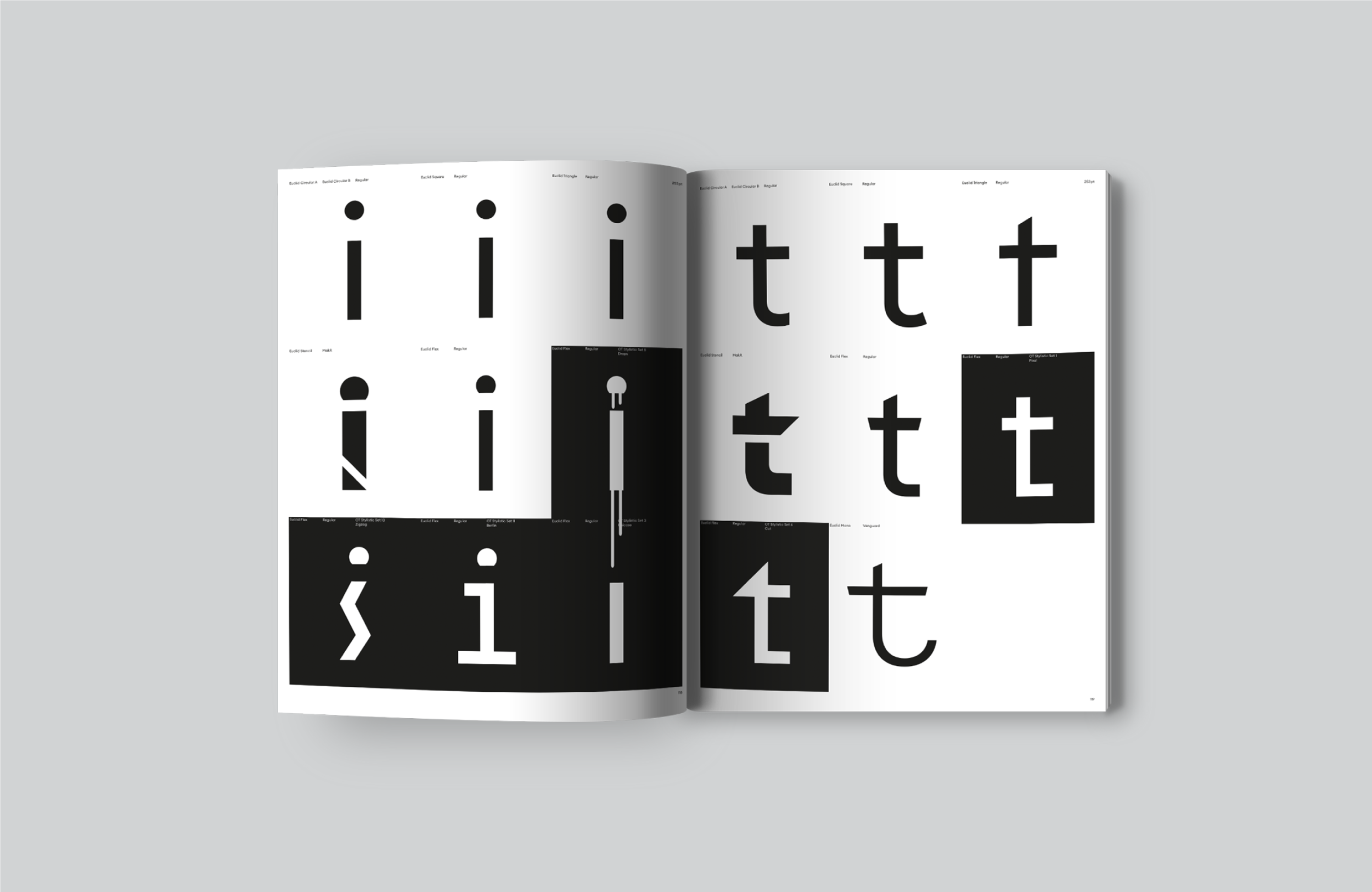 "Euclid – Typeface Mystery No. 1" goes far beyond being a printed specimen. Once you've made your way through expedient sample settings and mouth-watering glyph bacchanalia, you're confronted with a series of photographs. Taken by Matthieu Gafsou, they depict a cave, a playground, the Place de la Riponne in Lausanne, a highway intersection in Israel… But why do these places appear to have been abandoned? What's up with the handwritten notes that loom in a second ghost layer? And how is this linked to TAIA Agent Nathalie Louise Whitewater? Matthias Michel tells the mysterious story of the forensic psychologist who investigated the 'Typeface' case, a series of cyberattacks involving data viruses hidden in corporate font suitcases.
We're producing two versions of the book. The Standard Edition can be had for 50 CHF. The Ultimate Edition is a limited run that will be sold at 200 CHF. Not only is it distinguished by a special cover featuring a black-on-black version of Noah Scalin's skull art. It's a bundle that includes both the book and the typeface: each copy of the Ultimate Edition comes with a gift card hidden somewhere inside the book. Once you've extracted it (surgical equipment required), it will allow you to download the complete Euclid Typeface (4 collections, 55 styles) for free.
Both editions are now available for pre-order. Better jump on it right away: If you place your order before the official book release, you'll get a free license for Euclid Mono (25 CHF) on top.
.
Print / Binding: Musumeci S.p.A.
Cover material: Cloth Balatex Imperial 4440
Paper: Munken Polar Rough/Maxi Satin/Prolight
Fonts: Euclid Circular A, Euclid Circular B, Euclid Square, Euclid Triangle,
Euclid Flex and Euclid Stencil (designed by Emmanuel Rey / Swiss Typefaces)
Euclid Mono Vanguard (designed by Emmanuel Rey, Quentin Schmerber / Swiss Typefaces)
Font Engineering: Christoph Koeberlin
Hardcover, 264 pages, 24.5 cm x 31.5 cm