Support
User
FormSWISS
In 2019, Japanese designer Arata Maruyama started a 'design tour' of Switzerland. During his trip, he visited the Italian, French and German speaking regions of Switzerland to interview 30 individuals involved in the field of visual communication. Alongside creative people such as Hubertus Design, Kasper-Florio, Balmer Hählen and Studio Feixen, we had the chance to be on his route, and to meet him in our office in Vevey. Our encounter led to an interview for IDEA magazine (Japan's leading graphic design magazine), a travelling exhibition and a short online talk as well as few goodies designed with our fonts. The project named "FormSWISS" gathers all these discussions, events and encounters. 
Form
Form is a project initiated by type and graphic designer Arata Maruyama, branching from his design and communication agency &Form created in 2012. Born from a desire to portray the variety and differences of design practices across the world, the global platform allows an in-depth research directly on field, and narrates through different angles its findings.
"[…] This global design platform'Form' is made possible by research on various forms of visual communication design, space, education, technology, and work-life balance that exist in cities and countries around the world. With a focus on design, this platform will disseminate findings from local groundwork on the differences and similarities in values that emerge between Japan and other countries. The findings will be presented through media outlets, exhibitions, and seminars, to allow for more ways to consider and 'form' an even better future."   ( – FormTokyo)
FormSWISS was the first edition of the designer's on-going research, resulting from weeks of exploring Switzerland's three linguistic regions and design studios, a project intending to really grasp the essence of Swiss visual and graphic design culture.
"Starting with the publication of four editions in IDEA magazine, the design platform'Form' intends to unfold, beyond the limits of publications, various exhibitions and educational programs. It includes actual on-site research and interviews regarding the status of design worldwide, related education, technologies and work-life balance. The first country that Form focuses on is Switzerland, a pioneer in graphic design.[…]" – introduction FormSWISS in IDEA Magazine
Each FormSWISS section in IDEA Magazine is designed &Form's team and set in our typefaces. 
Exhibition
The exhibition was co-organized by &Form and the Embassy of Switzerland in Japan. "[…]The exhibition was held in October[2020] at THINK OF THINGS, FormGALLERY, BOOK AND SONS and MINA-TO(Spiral 1F), four venues located in the vicinity of Shibuya, where the House of Switzerland Japan will open in 2021 for the Olympic and Paralympic Games. Taking place during DesignArt Tokyo 2020, FormSWISS attracted 3,338 visitors and participants on site. It also received excellent reviews in the media, including AXIS magazine, Numero TOKYO, Monocle, etc."  – Confédération suisse, eda.admin.ch
At the exhibition, we displayed different publications, projects and processes representing best Swiss Typefaces innovation and creative values. As much as we wanted to attend the show in person, it was made impossible to travel there due to the pandemic. Nevertheless, we were able to join virtually by giving an online talk with a live-translation in Japanese and in the presence of a representative of the Embassy of Switzerland in Japan. Among other topics, we discussed our development process and thinking behind each custom font, and how to connect with international clients as Swiss type designers. We even showed some previews of Raskal Oner, which was published 1.5 year after. 
In March 2021, the exhibition traveled to Kobe to the Design and Creative Center Kobe (KIITO). Two years later, in November 2022, the second part of the exhibition was hosted by ddd Gallery and Gallery Sugata in Kyoto.
GOODIES
In complement to the show, we designed some limited edition goodies. Based on the concept of the form, we imagined a design for tote bags and t-shirts displaying of our motto 'Type Life' set in Simplon Mono and nicely screen printed on the fabric. The aim was to create a superposition and accumulation of patterns within which letters where carved out, to ultimately create a new form.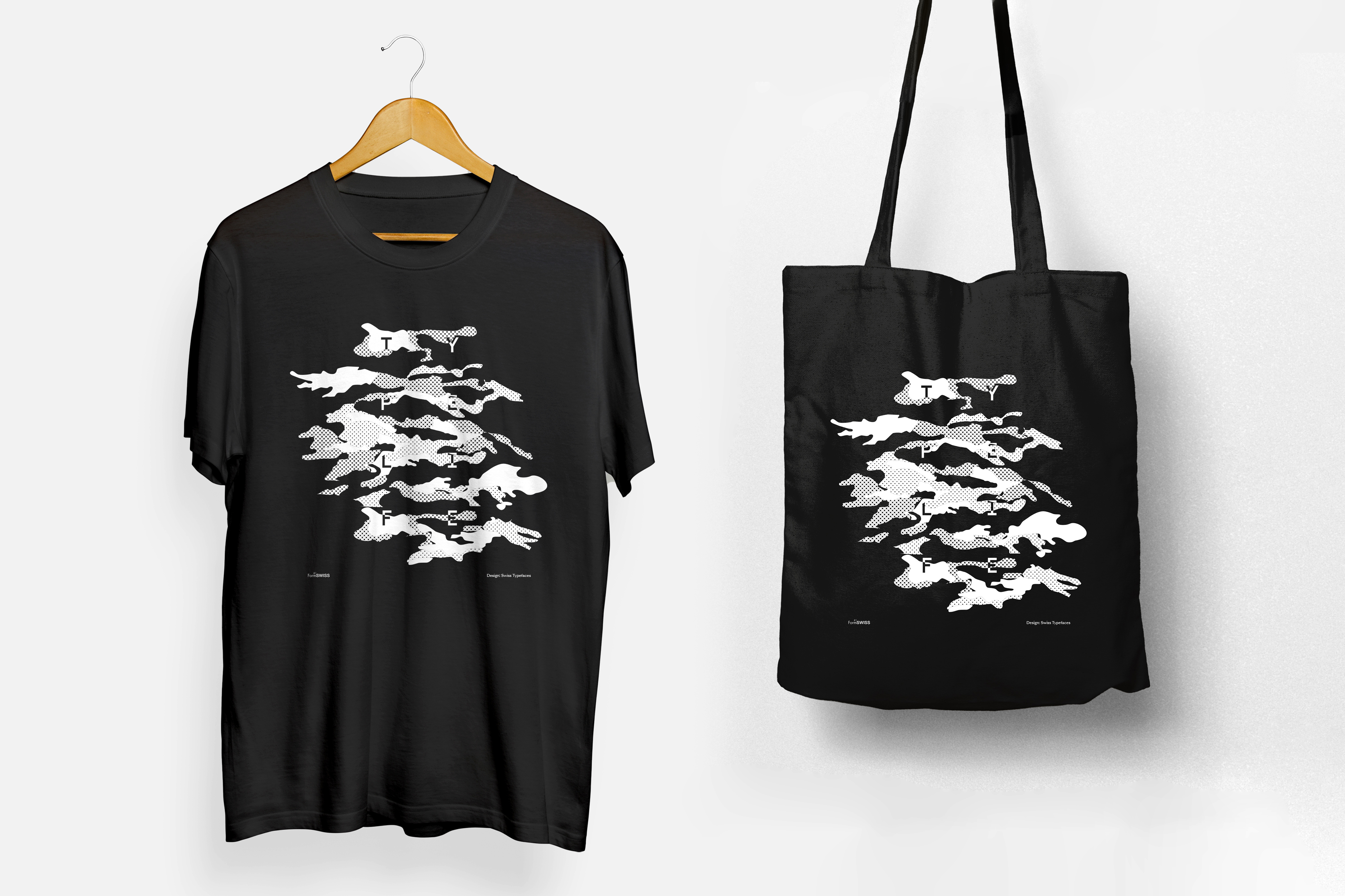 Taking part to a project commissioned by Think of Things – one of the hosting venues of the 2020 exhibition – we had the chance to redesign KOKUYO classic notebooks cover. On this project, we were given one among three notebooks design to get creative with (Field Notebook, Campus Notebook, and Report Pad), the two remaining models were attributed to two other design studios part of FormSWISS – Hubertus Design and Kasper-Florio . KOKUYO is a pioneer of stationery and binding techniques in Japan, their notebooks are a familiar part of work and everyday life for many people, using traditional binding techniques combined with innovative designs. The three design studios proposed purposes for notebooks that reflect not only function, but also the current times. 
For our notebook "Go Solo", we used KOPYME on the cover and paired with some warm colourful tones. This sketchbook has been imagined to let you confess whatever comes out of your mind in lonely times. As the saying goes in French: 'Better alone than in bad company!'. This notebook will be your best ally through isolation (1). Whether it be for your best ideas, your deepest thoughts or memories, or for quick sketches or early project reflections, the dotted pages let you all the freedom you need to put everything on paper while still being a trustful guide through the pages.
(1) in the context of COVID-10 pandemic, a large part of the world was quarantined at home.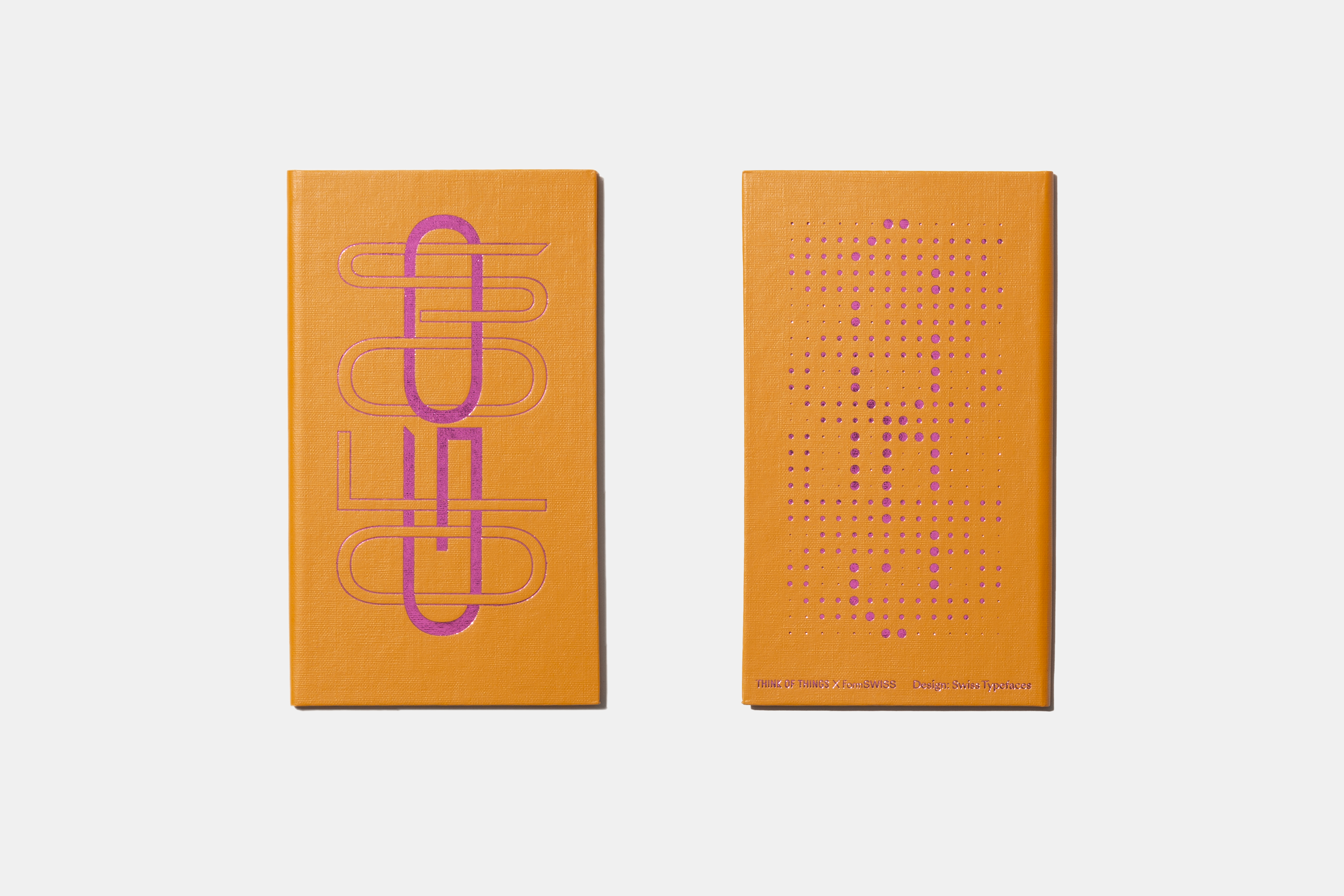 This experience in its whole is told in &Form's book "Form #1 FormSWISS" – a physical documentation of all the material produced in the scope of this project. It's a great piece of design to have around, and you should get your own copy!
Dear Arata, we thank you for this unique opportunity and are hoping to come to Japan very soon to visit &Form's team. 
Fonts involved

View font →

View font →
OR
You need to create an account to manage
orders, licenses, free trials and more!