.
Article written by Florian Hardwig
.
The first issue of Type Life was published in June 2017, and soon after, it sold out. Letter lovers who missed out on securing a copy can rejoice: Type Life #1 was made available again. The new edition is not just a reprint, but an enhanced update. It boosts four more pages and a revised design with new colors. The content was extended, too. In addition to new images, version 2 features several new typefaces that were created in the past months.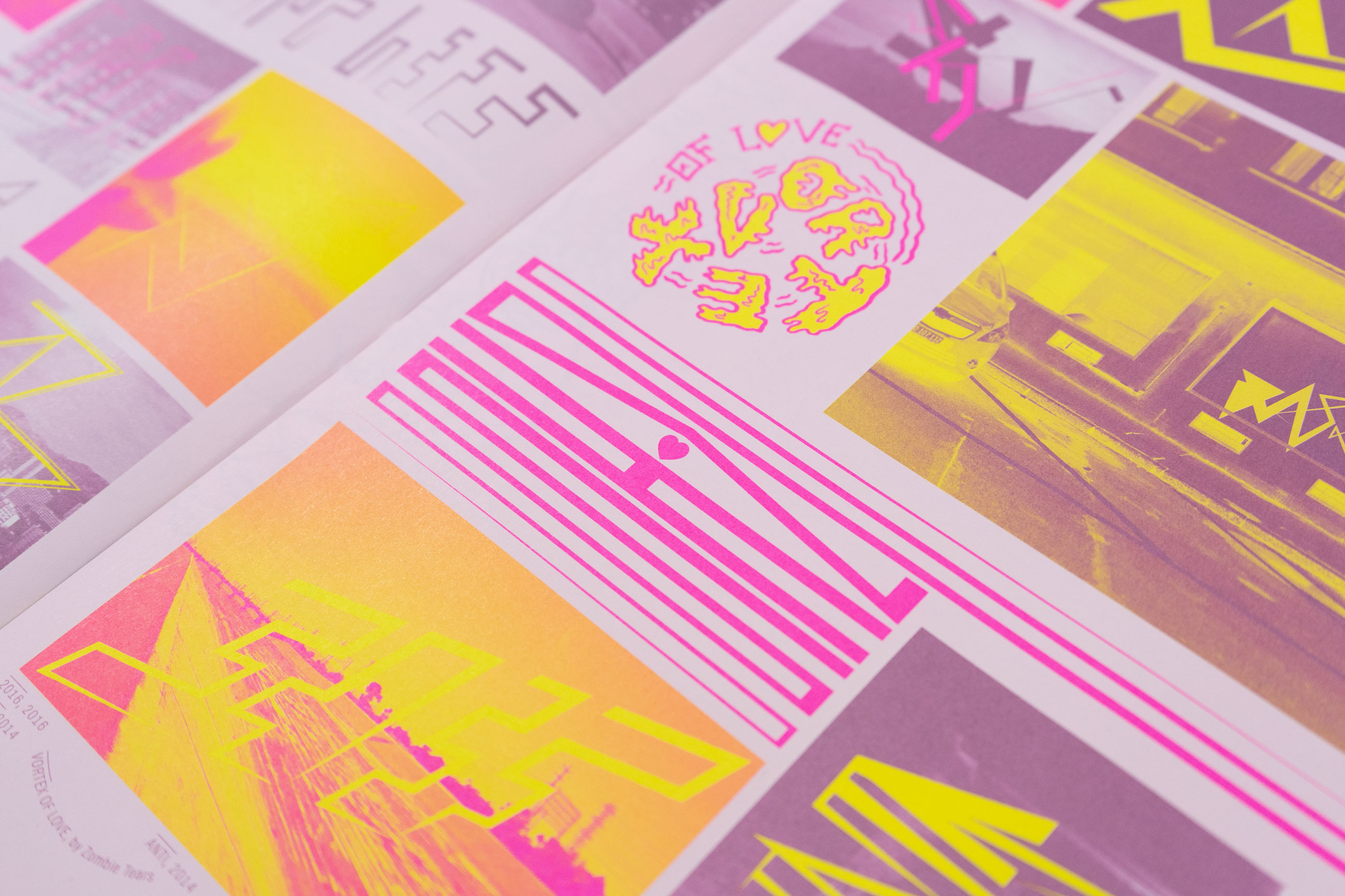 The updated edition of Type Life #1 also provides a glimpse into two upcoming Lab releases. KOPYME Asuzual is a brutalist typeface with monospaced characters of extra wide proportions. Its horizontal nature is offset by diagonals that shoot across the glyph space like laser beams. They crash through the baseline, extending the underlying grid by a fourth underground level, and adding to the KOPYME's kinetic energy. SB Black Mamba VENOM is an offshoot of the SangBleu series. Its swash letterforms are melting and churning as if they were drawn under the influence of the intoxicating Aztec elixirs mentioned in "The King, His Court, The Explorer & The Gift", the essay included in the SangBleu book.
The guest contributor to the first issue is Thomas Louzoun aka Zombie Tears, a French art director and illustrator. His whimsical drawings and handmade letterings were created specifically for Type Life. They are complemented by a feature of the Style Games Bachelor work made by type designer Ludmila Bredikhina at ECAL, samples of recently released fonts like the fat display serif IKANSEEYOUALL and the bonkers Euclid Stencil, and previews of fonts that are currently in the making, like the variable SuisseU, or new styles for TheW (36Chambers, ODB, GZA, NYC).
Concept, art direction, design, fonts and letterings
Swiss Typefaces
Photography
Swiss Typefaces
Guest
Thomas Louzoun aka Thomas Tears
Print
CRICprint, Marly, Switzerland
Release
Vevey, May 2018, 1500 copies, updated second edition