Euclid
The ultimate Geometric typeface
Since its emergence almost a hundred years ago, the Geometric typeface has always been popular. Based on elementary geometric shapes and constructed of monolinear lines, it was invented to be functional, leaving behind anything that can be regarded as superfluous. Designers love the genre for its rigor and purity. The straightforward shapes are associated with modernism and eternalness alike. Swiss Typefaces offers the best Geometric typeface ever.
Named after the Greek mathematician Euclid ("The Glorious"), founder of geometry and author of the Elements, the typeface comprises five collections: Euclid Flex, Euclid Circular A, Euclid Circular B, Euclid Square, and Euclid Triangle. By and large, they exhibit the same timeless construction and proportions, and have many shared basic letterforms like the circular 'o', monocular 'a' and 'g', and the high center 'M'. Have a closer look: In the details, the five are quite different. Each collection brings a distinctive flavor and feel. Where Euclid Square is blunt, Euclid Triangle is acute. Euclid Circular A can be seen as idealistic, while Euclid Circular B appears undogmatic. The multi-faceted Euclid Flex has a bit of everything and yet is in a class of its own. The various collections are not intended to be used in combination – with the exception of Euclid Flex, which may serve as display companion to one of the others.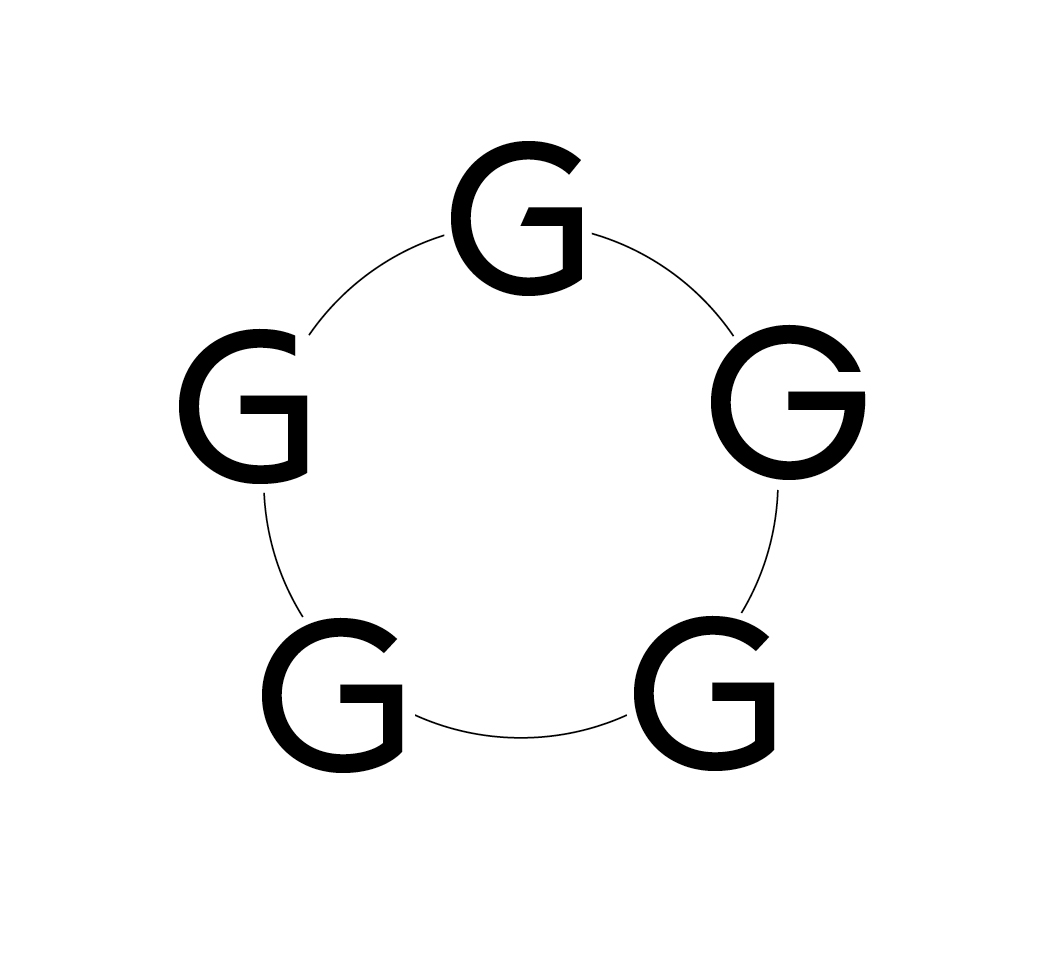 Euclid is a tool for branding agencies and design studios.
We built this finely graded palette so that designers can pick exactly the Geometric typeface they need.
Euclid is a tool for branding agencies and design studios. Swiss Typefaces built this finely graded palette so that designers can pick exactly the Geometric typeface they need. Especially in branding, precision is crucial. Each of the five flavors offers a special expression which can be just the right solution for the visual identity you are working on. Euclid provides a variety of fine-tuned typographic voices within the canon of the Geometric typeface. Your choice may be informed by project-based requirements or personal taste. The great thing is that, whatever Euclid you settle on, it will always meet the high quality standards of Swiss Typefaces, in terms of aesthetics and technology.
All Euclids were designed in five expedient weights. In addition to the default proportional lining figures, there are tabular and old-style figures, including optional slashed zeros. All fonts support a large number of Latin-based languages (Euclid Flex additionally covers Cyrillic characters) and are equipped with features for professional typesetting like fractions, superscript and subscript numerals. A set of arrows comes in handy for directing attention in lists or charts, in corporate publishing and elsewhere. In sum, Euclid is the ultimate Geometric typeface.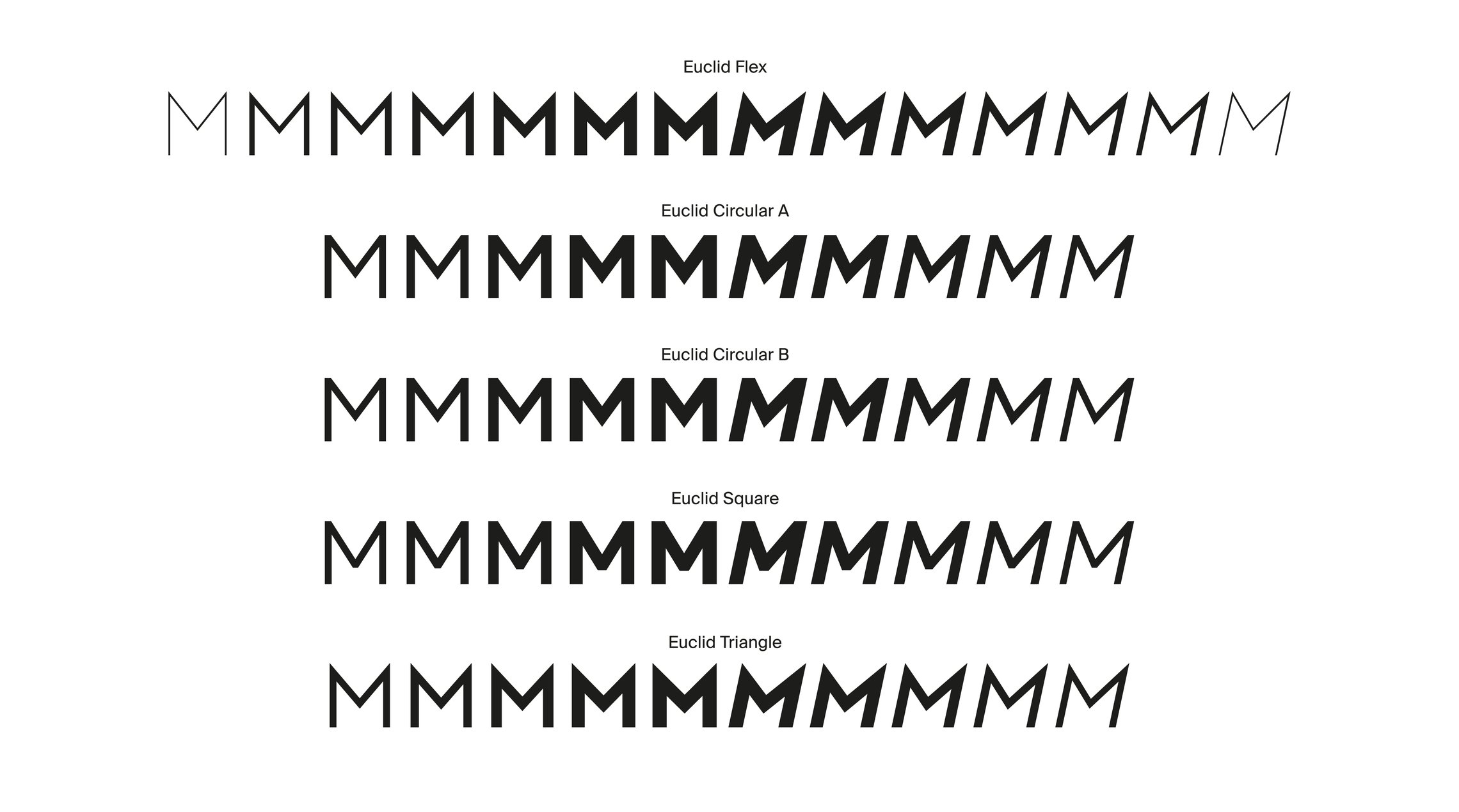 Taking cues from street culture, graffiti, and freak parties in underground clubs, Euclid Flex is inspired by the irreverent youth of our time. This rebel couldn't care less about rules: its 't' bar is angled on both sides, both 'O' and zero are circular, the 'i' dot is clipped, and that ampersand is simply unheard-of. It takes some guts to go with Euclid Flex. Those who dare are rewarded with character abound. Euclid Flex is the most diverse Euclid. Not only does it support the Latin and Cyrillic alphabets, it comes with a sheer inexhaustible supply of alternate letterforms and unusual ligatures, making it an extremely flexible tool for playful and powerful identity design. The stylistic alternates are organized in eleven sets, including angular, diagonal and dotted variants, biform shapes, letters dripping with paint, and more. The weight range comprises an Ultralight, indicating that Euclid Flex feels at home in display sizes. It is not limited to striking headlines, though: When used without any extras, it can serve in standard text settings, too.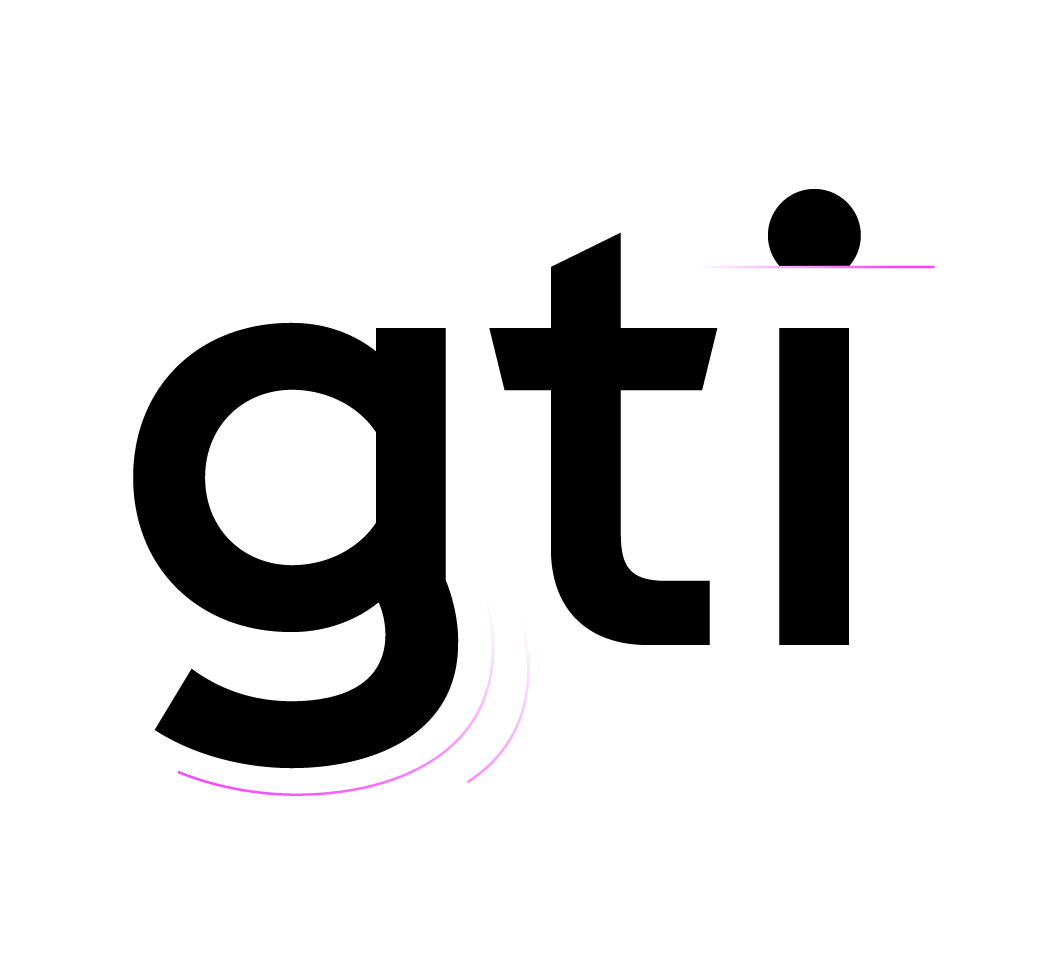 In Euclid Circular, the circle is the measure of all things: Letters with stems and bowls – think 'a', 'b' or 'p' – have immaculate round counters, punctuation marks are based on circular dots, 'G' is round all the way up to the bar. The defining feature of Euclid Circular A are its horizontal terminals: Curves are cut parallel to the baseline, see 'S' or '3'. Thanks to this uncompromising avant-garde attitude, key glyphs like 'C' or 'e' assume perfect, self-contained shapes with small apertures. The result is a self-confident Geometric Sans of timeless beauty.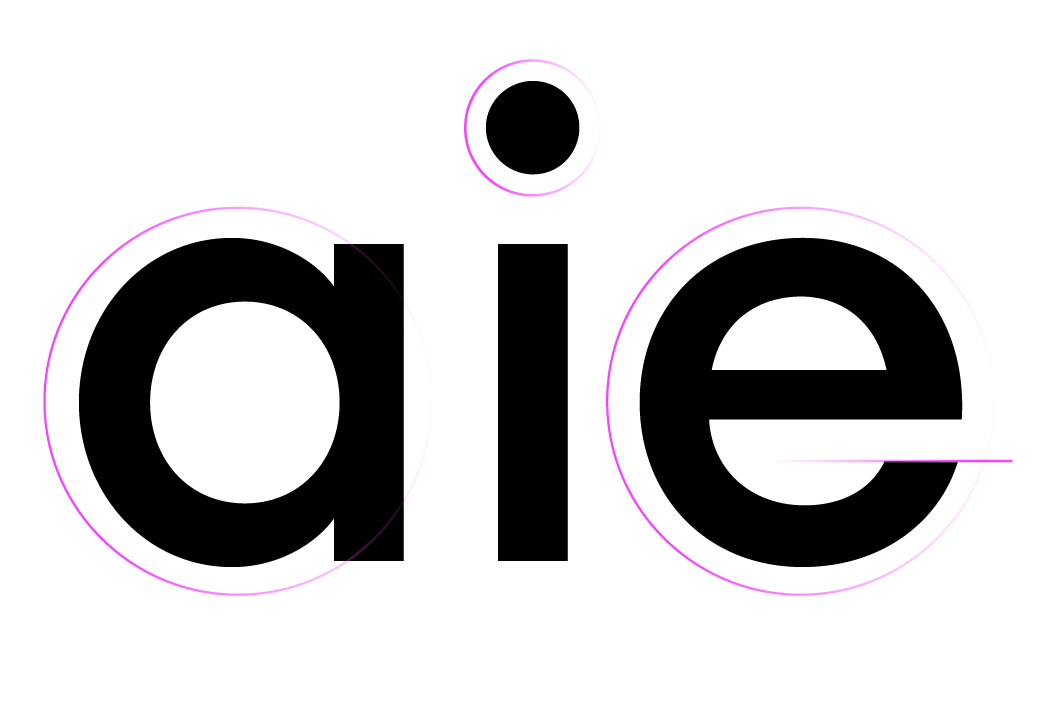 Euclid Circular B is the pragmatic member of the Euclid typeface, and is positioned somewhere between Euclid Circular A and Euclid Square. With the former, it shares the round counters in 'a', 'q' or 'g'. With the latter, it has the diagonal terminals in 'c' or 'S' (but not 'J' or '3') in common. For those who are fond of these two features, Euclid Circular B offers the best of both worlds. Did you know that Euclid Circular A and B have longer extenders than the other Euclids? Ascenders in 'd' or 'l' tower over the capitals, resulting in more distinctive word images.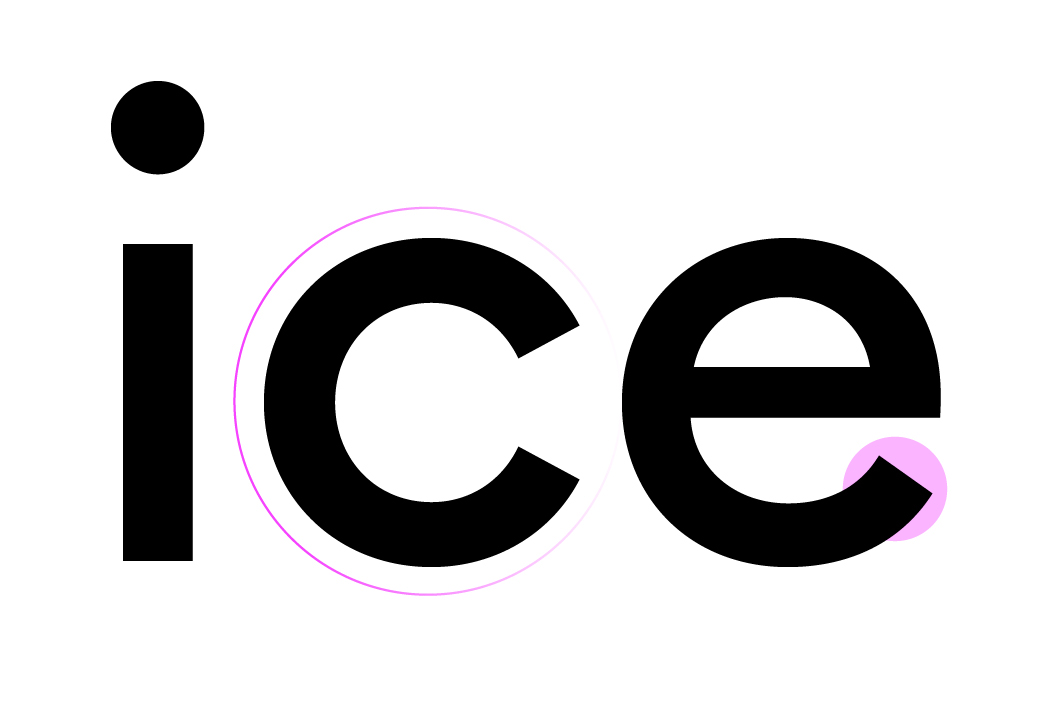 Euclid Square is distinguished by diagonal terminals: Curves are cut perpendicular to the stroke. With its three-quarter circle 'C', it sits between the introverted Euclid Circular and the sociable Euclid Triangle. In 'b', 'q' and other "ball-and-stick" letters, the stem intersects the circle. It's the only member with flat vertices in 'M', 'W', or in accents like the circumflex – a detail that adds to its forthright demeanor. Euclid Square's sturdiness is further exemplified by its wider 'f' and 't'. Unlike the dots in alphabetic letters like 'i' or 'j', all dots in punctuation marks are square. This seemingly neglible trait has a huge effect on the text appearance, adding both sparkle and resoluteness.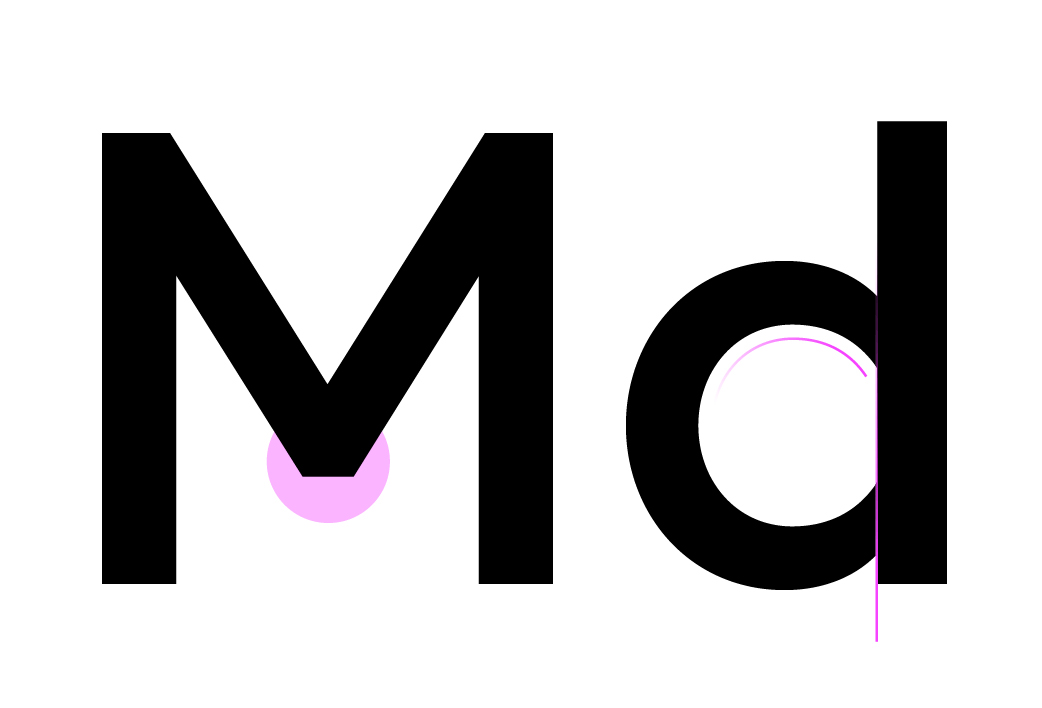 Euclid Triangle has its name from the pointed terminals in letters with diagonals like 'A', 'M' or 'w'. In 'K', the two legs meet in a point. These sharp features echo the details found in Euclid Flex. Here, they are combined with vertically sheared terminals: 'J' or 'S' are cut straight from top to bottom. The resulting shapes are very open. In 'C' or 'G', they are reminiscient of the early modern sans serifs from Britain, with their classical proportions derived from Roman caps. The 't' does without a tail. Thanks to these narrow glyphs, Euclid Triangle has slightly more economical proportions than Euclid Circular or Euclid Square. The numerals (open '4', curved '6' and '9') and the wedge-shaped commas and quote marks contribute to Euclid Triangle's identity. Another feature shared with Euclid Flex: Ascenders reach to the same height as capitals, which is advantageous when calmer word silhouettes are desired.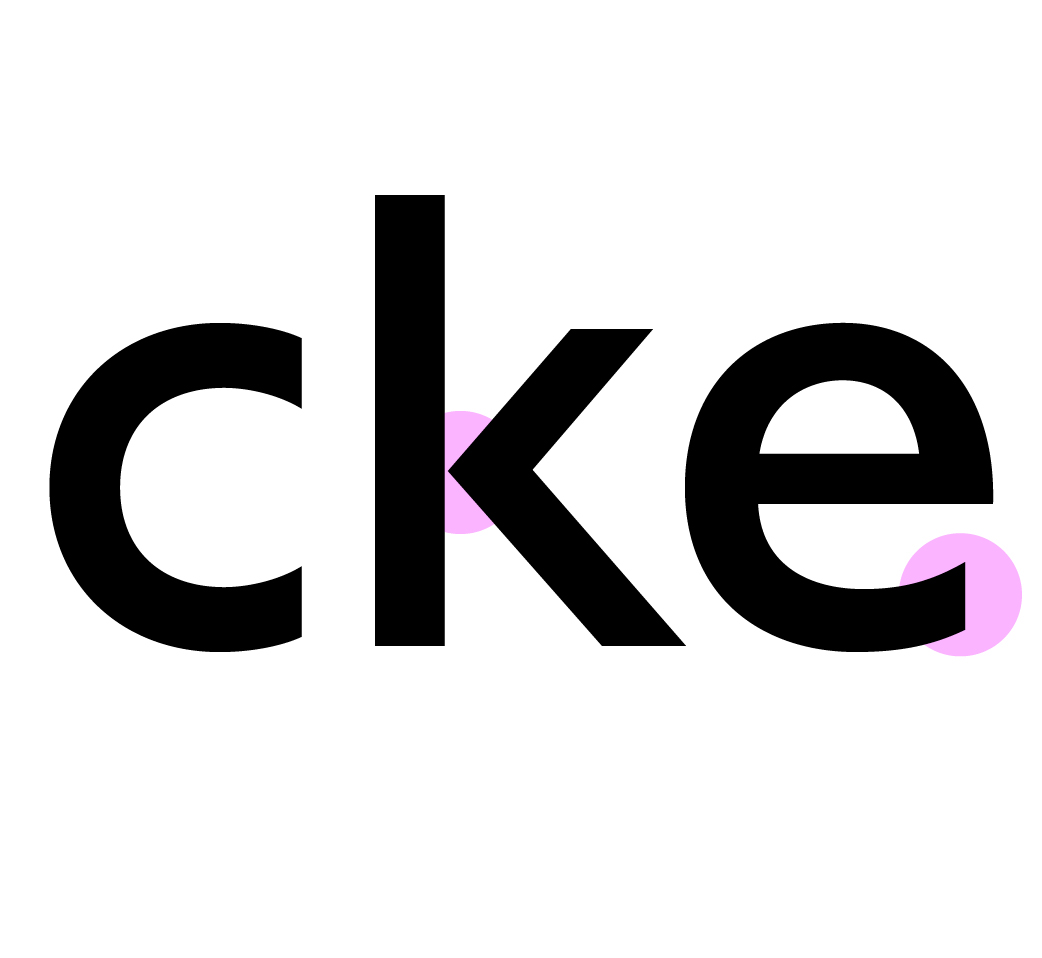 Click below to try & buy the ultimate Geometric typeface:

Euclid typeface
Concept, art direction, design by Swiss Typefaces 2008 - 2017
Font Engineering by Christoph Koeberlin
Text by Florian Hardwig

Already a customer?
New to Swiss Typefaces?
Create an account
You need to create an account to manage your orders, licenses, free trials and more.
Read our Terms and Conditions (PDF)
← Back to login
[[total|floatformat:2]] CHF

(

[[items.length]] item[[items.length|pluralise]]

)